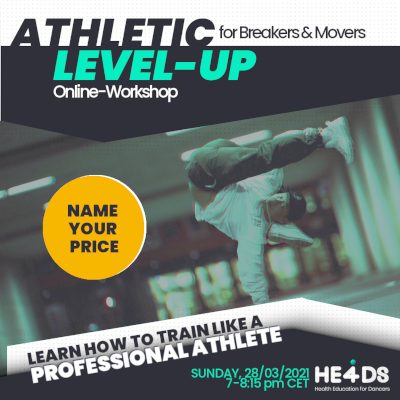 Workshop: ATHLETIC LEVEL-UP
🔥ATHLETIC LEVEL-UP🔥
➡️Sunday 28/03/21 7-8:15 pm CET
➡️Name your price.
🌋Wanna step to the next level of breaking, the next level of movement?
🙌Hold on. What makes a professional athlete… Professional? Dedication? Yes. Train a lot? Yes. Talent? Maybe.
🥇These are the soft skills. We bring you the HARD FACTS. The SCIENCE.
🔣Even more: We provide you with the code to level up to a true ATHLETE.
💯What do you need to know besides dance skills?
What do you truly know about 🕺Physique? 👾Genetics? 🥕Nutrition? 😴 Recovery? 🧠 Cognitive abilities? 🔧Motor skills? 🤚General physical skills? ➰Movement technique? 🔢Tactics? 🔦Coordination?…
🤯Seems overwhelming? Don't worry, we got you. Join our workshop and start to build your very own individual plan to step up your athletic dance and movement game.
✳️We provide you with the compass.