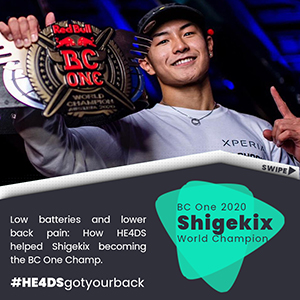 HE4DS × Red Bull BC One
Therapist Sophie had the opportunity to represent HE4DS at the Breaking World Final in Salzburg, where she got to treat the world's best dancers prior to the competion using the HE4DS Method. We've been lucky enough to convince even two of the contestants to give our readers a deeper insight into their journey and how they have been able to utilize tools from the HE4DS Method to deliver their exceptional performances: Bgirl Jilou from Germany and Bboy Shigekix from Japan.
While Bboy Shigekix had a physical treatment involving myofascial release techniques, we could support Jilou on a mental level using certain visualization and reconditioning exercises.
Happy with the results, Bboy Shigekix made time for a short shout-out after the battle, while Bgirl Jilou even did an Insta Live with us to dig deeper into the topic of mental training.
We summarized their cases and got down to the nitty-gritty in the tiles posted here. Being great examples of our work (we're always glad to hear your feedback <3), more importantly we hope that some of you dancers out there can relate to their issues and find your own way to better, healthier dancing through HE4DS techniques.
We posted a detailed explanation via Instragram, so make sure you stop by @he4ds_method!
Another element of the HE4DS Method that were heavily requested and covered during the competion was our Performance Breathing. Specifically optimized for dancers to use DURING competitons, in between rounds or during calmer moments on stage, it helps dancers to last longer and dance full of energy from the first to he last minute.