HE4DS MOBILITY PRO
Level-up your mobility
PART 1
TEST YOUR MOBILITY
PART 2
LEARN YOUR PERSONAL EXERCISES
PART 3
BUILD YOUR OWN TRAINING PLAN
In the first step, we will test the mobility of your keypoints & identify the areas that need work.
Download the PDF-Template and fill in the case(s) that apply to you after each test.
What you need:
a small space (2*2 meters)

a free wall or door

a recording device (optional: tripod)

a yoga mat, carpet, kneepad or towel
What to do:
watch the test

do the test & record yourself

watch the cases

[x] Check the case that applies to you
+++THIS IS PREMIUM CONTENT+++
Your BODY-CHECK TEMPLATE now shows you on which keypoints you will continue to work.
You can find a corresponding exercise for every single case below.
NOW: Try out each one of your personal exercises for at least 1 FULL SET.
Pay attention to the exact technique! We will use these techniques later during training.
PART 3
BUILD YOUR TRAINING
Now that we have built the foundation, we will craft your very own MOBILITY Training Plan.
Below you will find general rules for your practice schedule.
TIME
For each mobility session, take around 15-60 minutes
TIMING
You can train mobility all year long, every day of the year. One training session equals one mobility session. The more, the better.
CONSISTENCY
Consistency over quantity: Long term effects develop over time. Try to find a routine you can stick to & that fits well into your life.
WARM-UP
Mobility training comes right after your warm up in any practise session. The best way to warm up is to start with joint rotations, dynamic stretches and some cardio-vascular exercises like rope skipping of jumping jacks.
TYPES of MOBILITY TRAINING
Select one training type to learn why, when and how to use it.
WHY?
to increase your range of motion
WHEN?
on days you don't train or 4-6h before/after your training
HOW?
mixed methods concept – all mobility exercises!
+++THIS IS PREMIUM CONTENT+++
+++THIS IS PREMIUM CONTENT+++
+++THIS IS PREMIUM CONTENT+++
+++THIS IS PREMIUM CONTENT+++
+++THIS IS PREMIUM CONTENT+++
+++THIS IS PREMIUM CONTENT+++
+++THIS IS PREMIUM CONTENT+++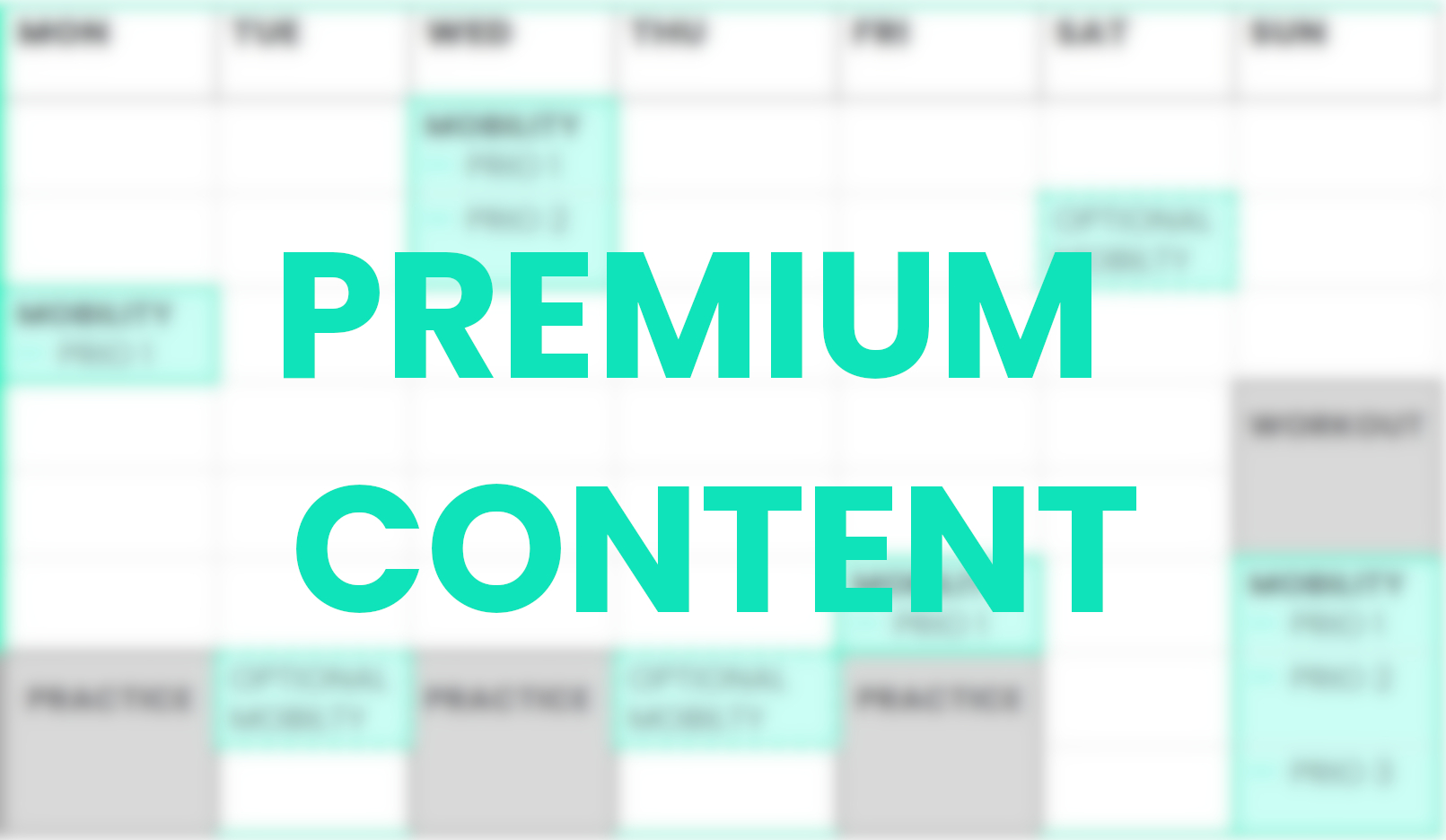 PART 4
PROGRESS & RE-TEST