HE4DS MENTAL TRAINING
Master your Mind Game
PART 1
Test where you stand
PART 3
Build your Mental Training routine
In the first step, we will identify where you stand right now. This helps you to monitor your progress.
Test yourself!
This short survey will help you to identify where you stand right now & to monitor your progress.
Download the MIND-CHECK template and fill in the scales.
Remember: There is no wrong or right answer – write down what you feel!
Now, we will guide you through the foundation of Mental Training!
Below you'll find our fully interactive Mental Training guide!
Go through it chapter-by-chapter.
Try each method out at least once before you proceed.
Come back whenever you need – make sure you understand the fundamentals fully before your practice!
KEY-PRINCIPLES
to make mental training work.
TIME
There is a right time for each mental practice. Train smartly & at the right time of the day!
AUTOMATISM
The most effective mental technique is the one that comes naturally. Your goal is to be able to recall the helpful thoughts & feelings automatically!
GOOD HABITS
Consistency over quantity: Long term effects develop over time. Try to find a routine you can stick to & that fits well into your life.
SUMMARY: TYPES OF MENTAL TRAINING
Select one training type to learn why, when and how to use it.
WHAT?
Visualization techniques
WHEN?
Possible all day, works best in the morning
HOW?
Imagine every piece of the move or performance in your mind like a movie.
WHAT?
Stances and movements
WHEN?
All day, in between other activities, during a stressful situation.
HOW?
Create a movement or stance that you associate with a positive mind-state and perform it multiple times a day.
WHAT?
Positive self-talk, meditation
WHEN?
Works best in the morning, start your day right!
HOW?
Take at least 15 minutes in complete silence in a relaxed position f.e. sitting or lying. Sharpen your focus by emptying your mind.
PART 3
Build your schedule!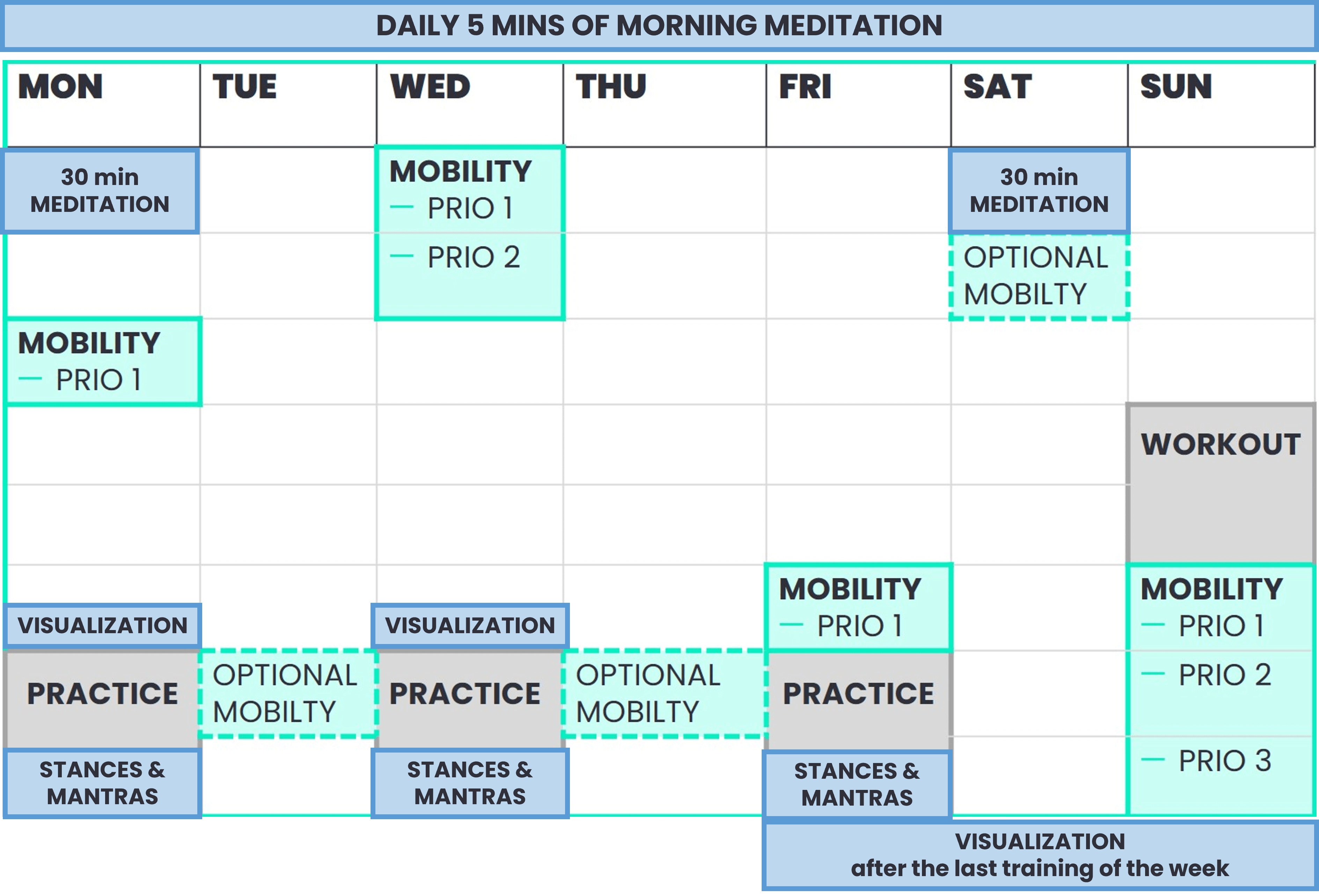 PART 4
PROGRESS & RE-TEST